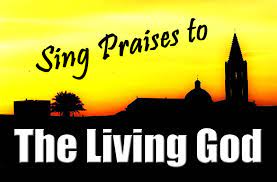 God loves us all.  He wants to hear from all His children.  He loves to hear us praise Him with a pure heart.  We can sing praise or even just speak words of adoration with our mouth.  Words are very important.  We need to not be afraid to speak words of love to God.  It builds our faith and brings Him unequalled joy.  Here are the words He had to say in my book, OK, God, Let's Start From Here.
I love you and long to hear the praises of My people.   -God
Just as we love to hear praise from our loved ones, God loves to hear praise from us.  Try opening your mouth and just lifting His Name up.  Tell Him how much you love Him, or what you think about Him.  He wants to hear it all.  Singing is a great way to praise God.  Those words come from our spirit and just show our love to Him in ways we cannot imagine.  Singing brings many emotions and love is one of them.  Praise God with all your heart, and He will rejoice over you.
You can find ordering information on the book by pressing the tab in this site.